The Human Underwater Society
The human immersion technologies to serve the entire society
Human Underwater Society is an independent & civil non-profit organization
To serve general interest by contibuting to impact the arbitration of our societies on scientific and technology orientation matter.
Enlight all audiences about the potential of the study of man in the subaquatic space for the general interest, and in particular the sciences & technologies related.
Promote the idea that this thematic field desserve a treatment through a global and integrated approach , such as we do it for outer space, subjecting this experimental constraint to the thoughts of stakeholders of science and innovation in all sectors in the hope of reviving a dynamic of interest on these subjects and bringing about futures solution for the whole society.
#VoteForTheCreationOfAPublicAgencyForManInTheUnderwaterSpace
Impulse a dynamic by building investment strategies, ecosystems and turnkey projects for new services & products, as growth relays for new markets, allowing to generate value by step through dynamic and evolutive business models and to raise funds at the scale of stakes for human health, environment preservation, the coastal and island population economy, and great humanitaries challenges, current or to come.
Back to origins
An ocean of alternative solutions
« Time is coming to tackle the next step of man emancipation in underwater space. »
Focusing on : systems – materials – processes
Preservation of our physical integrity
biometry monitoring, studies on limiting factors impacts.
Improvement of our perception and interaction in environment, new sensors – new interfaces between man/machine/signal in water.
Improvement of our individual physical mobility
The Underwater Transportation
We believe that these aspects will play a major role in the evolution of sciences that govern us and will contribute to the resolution of the next great challenges humanity will face It's about relation between man and water – between water and human life
THE "P22" PROGRAM
Our program of 22 turnkey engineering projects to develop
« Look human through water : a prism of knowledge, an underexploited potential »
COMMUNITY INVOLVEMENT
ENVIRONMENTAL PRESERVATION
&
ISLAND POPULATION SUPPORT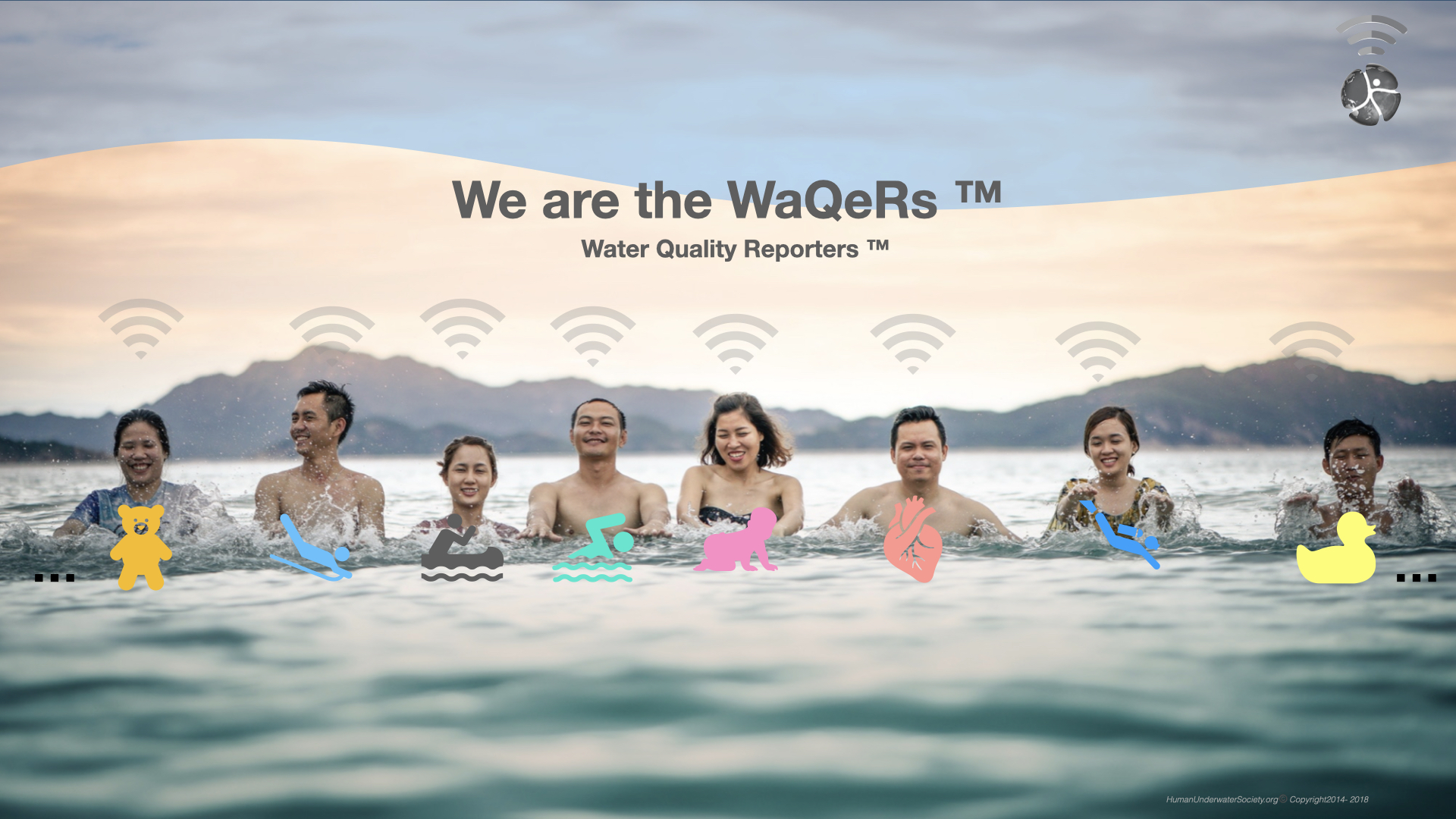 Community project of public aquatic space users
U-Spot ®
Development and service solutions to use, enrich and animate artificial and natural aquatic public spaces with U-Pool™, U-Beach™ et U-point™.
U-Park ®
Create large integrated complexes:
1. ex nihilo, like the project "Rua-hatu park: the city of underwater technologies ©" sort of "futuroscope" of underwater life, bringing together exhibition and leisure activities for the general public and health activities or support for research and product development.
2. Renovate U.Rban ™ urban water sources such as the Neptune © project.
U-Box ®
Create new meeting places, Light immersion Solutions for hotels and coastal communities, U-Box U ™. Lively underwater spaces in destinations such as traveling aquariums for communities, U-Box A ™ and traveling immersive digital experiences, U-Box D ™.
HUS Institute
The research complex bringing together offices and infrastructures, and specific equipment, intended to accommodate researchers from all over the world.
ISSub
An international submarine station, dedicated to welcoming, over long periods of time, many researchers from all over the world, in different fields of hard or social sciences, and testing and certifying devices, processes, materials, or even, behaviors, in situ.
U-Tube ®
Nomadic devices for in situ studies.
U-Shelters ®
Large capacity self-sufficient public collective shelters.
U-Bubble ®
Autonomous family housing
U-Rescue ®
Underwater rescue unit on board.
Infrastructure project for awareness U-Park ® :
Rua-Hatu Park « The Tahitian Park of underwater technologies »
A thematic complex :
An emulation complex on the themes of humans immersion  :
– a public exhibition and entertainment center dedicated to the awareness of local population and visitors
– a new touristic spot to increase the offer for foreign and local visitors
– an innovation center with a fab-lab and an incubator (to design, to assemble and to test new devices)
– a health center (which will concentrate on rehabilitation, sport and wellness)
– a training and educational center
Our long term perspectives
The importance of our task requires a wide framework, growth opportunities, long-term perspective and unprecedented funding
To meet our mission to educate all audiences,
we have to develop awareness tools and democratize access to water.
In the longer term, once duly funded, here is the roadmap that we propose to implement
We have set ourselves the mission of supporting and supporting Research & Development in the fields of breakthrough science and technology with high potential for human immersion and society as a whole.
To reveal the potential of this approach and encourage vocations, we wish to erect places dedicated to cross-disciplinarity in which skills and resources will converge which will integrate too awareness tools for all audiences. The challenge for us is to create places of emulation necessary for the renewal of this disciplinary field in which the interoperable technological bricks of this new sector will be developed.
Structure an economic sector
Be a force of proposal to create the tools that will allow the structuring of a dedicated sector, ensure the funding of leading research, design the tools for certification, control, transfer and technological development, imagine the structures of support, encouragement, incubation and acceleration of innovation focused on products and services. A strategy and framework to boost the placing on the market of technologies through the creation of a dedicated ecosystem for generate synergic growth relay. It is about pooling technical and economic expertise and resources in the service of this cause.
To receive the exhaustive list of actions carried out since 2011, please contact us.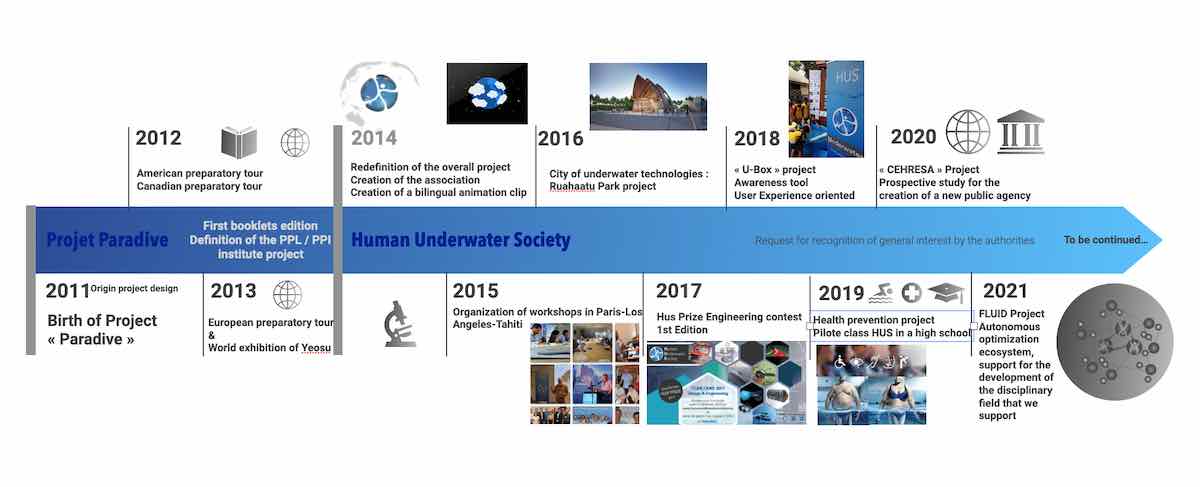 HUS Prize Engineering&Design
The Human Underwater Society organizes contests in order to highlight the innovative work of developers :
The HUS Prize Design & Engineering,
The first edition spanned 2016/2017 and in 2022 we will launch the 4th edition.
With appropriate funding we hope launching too on day the first editions of HUS Prize Architecture and HUS Prize Media Education
Here you will find some of our winners.
Crédits images : Tahiti 3D, Graphiste Partenaire de HUS
Register now for the latest news !
Subscribe, like and share our publications on social media
The Human Underwater Society would like to thanks Tim Mc Kenna for the wonderfull photos he has offered to us.
Follow him on www.timmckennaphoto.com